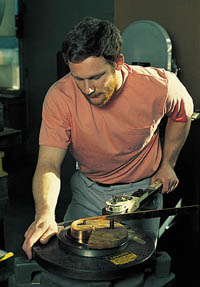 Heritage Lanterns originated in Boston and eventually made it's way to Yarmouth, Maine in 1979. Craig Gustafson ran the business out of a small manufacturing building with a crew of around six artisans. His daughter Karla began managing operations when her father decided to retire in late 2000. In early 2013, Heritage downsized and Karla sold the business.
The building in Yarmouth has closed, however in an effort to continue the Heritage legacy we have partnered with New England craftsmen to handcraft our lighting fixtures. We invite you to view our fixtures online and admire the quality and dedication put into each and every piece. Please don't hesitate to contact us if you have any questions or need anything special; custom fixtures are available and inquiries are welcome!
Our Heritage Lanterns are created by hand, just for you. Hand skills, rarely found in today's world of mass production. New England craftsman individually cut, shape and assemble each light and take great pride in meticulously crafting even the smallest details.
While Heritage lights follow the shapes and forms of the 18th century, they're simply stunning when used in contemporary settings. The placement of these lights is limited only by the imagination.
The Heritage Difference
Our authentic designs speak for themselves. Heritage uses only metals that will not rust … there will be no "surprises" a few years after installation. We do not lacquer our fixtures so you can enjoy the rich patina that comes with natural aging. Heritage lights, either indoors or outdoors, need no maintenance.